Courtney Finn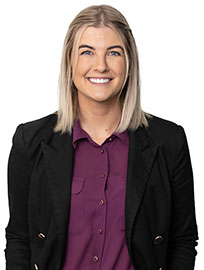 Courtney Finn
Full Name:

Courtney Finn

Position:

Lawyer

Email Address:
Date joined RMB:
March 2022
Field(s) of Law:
Prior to joining RMB Lawyers, Courtney worked for four years at Stacks Law Firm as a paralegal and Law graduate, then as a practising solicitor. As a solicitor, she worked across Property, Family Law, Wills and Estates and Compensation.
Training:
Courtney graduated with a Bachelor of Laws degree from the Canberra University in 2020, and a Graduate Diploma of Legal Practice from the College of Law in 2021.
Professional Background:
Courtney's key professional interests are Workers Compensation, Motor Vehicle Accidents, Public Liability and Medical Negligence. She has a passion for aiding injured individuals and their families and helping them navigate the complex NSW compensation system to achieve the best possible outcome. Courtney also works in the Family Law team at RMB's Goulburn office, where again her focus is on achieving the best possible outcomes for her clients.
Personal Details and Interests:
Courtney moved to Goulburn with her family when she was aged seven, so has strong community connections. In her spare time, she enjoys spending time with family and friends, playing soccer, working out at the gym and taking long walks.